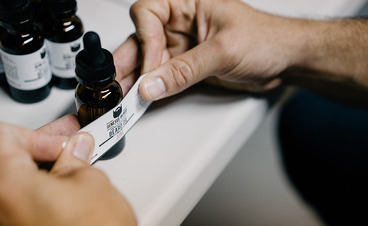 What inspires the choices you make in developing your products?
It comes down to two things: what customers are asking for and what I believe can set Genesee Beard Co. apart from
everyone else. I try not to consider raw material costs and opt for the best quality ingredients I can get. Regarding the different scents we offer, I generally try to cover a wide spectrum to appeal to various tastes.
What's something you feel people don't know about Genesee Beard Co.?
Just how important beard oil is! So many people think it's a gimmick or a joke, but once you actually use the products
and see and feel the difference it makes for your skin and beard, there's really no going back. The hardest thing to do is convincing someone that's had a beard for years and has that mentality of "I've never used oils before so I don't need them," to actually give them a try. I can't go a day without using them or my face feels dry and my beard looks disheveled to me.
"…as much as I always dreamed about moving away, something has always kept me here."
Does your company get involved in any giving back / charitable initiatives?
In the past we've made charitable donations to be a part of different beard competitions but this October we'll be collecting money as well as donating a percentage of sales to a Crohn's research organization. If we reach our collection goal, I'm going to allow someone to shave my beard off.
Is there a company out there you really admire?
Beardbrand. They may not have been the first company to enter the beard care marketplace, but they were the first to really blow up.
Part of their success can be attributed to their appearance on Shark Tank, but a lot of it is due to their marketing, their clean packaging and web design and their connection with the bearded community.