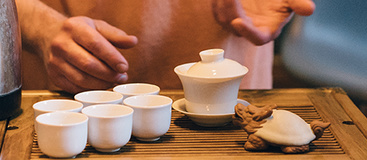 It's important to me to support the culture of tea as much as it is to sell it. By working directly with growers around the world, we're able to make sure the smaller farms who've been carrying on handmade, traditional growing methods are able to stay in business. We're all about supporting small, local businesses because I believe they care the most about what they do and as a result, offer the best products.
Does your company get involved in any giving back initiatives?
Yes, we're a contributing member of the Arbor Day Foundation. We planted over 20 new trees in the Rochester area over the last 2 years. They're a great organization to work with and hopefully we'll be able to do much more with them as Maker's Tea grows.
Are there any companies out there doing things you admire?
I've been really impressed with what the ladies at Scratch Bakeshop have done over the last few years. They make an excellent cupcake but also have a great handle on how to communicate with their audience. And they're still so young! I'd love Maker's Tea to be where they were last year, in 5 years.
In six words, describe a day in your shoes?
Water. Heat. Leaves. Sip. Smile. Repeat.
How do you find balance between job(s), your company, and life in general?
It's a constant struggle. Passion projects, like Maker's Tea, can take up as much time as you're willing to devote to them. I've found if I can incorporate an aspect of the daily work into my larger routine, it helps it feel like less of an extra task. For example, all the tea sampling we do at Maker's Tea (about 15 new teas per month) has just become part of my daily tea drinking ritual. By streamlining our rating process and making it part of the daily routine, it almost takes care of itself.
Why have you chosen Rochester as the home for Maker's Tea?
It's where I've grown up and where I call home. I'd like to give back to the community as well as help support the local economy. It's a great city and it keeps getting better.