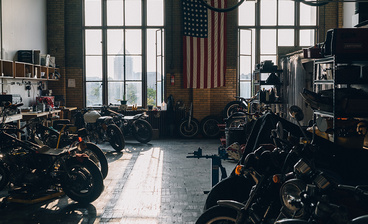 Does Interstellar get involved in any giving
back initiatives?
Yes, Interstellar Motors has been involved in the Rochester Chapter of the Distinguished Gentleman's Ride, a world-wide charity event based around riding vintage motorcycles in dapper suits to raise money and awareness for Prostate Cancer Research. We have designed the ride routes and built trophies for the past
few years.
Is there a company out there you admire?
In terms of motorcycles, we dig groups that build bikes that are offbeat or provocative, the real love-it-or-hate-it bikes that make what we do interesting. Some of these are El Solitario out of
Spain, Ed Turner in France or Shinya Kimura in California. We'd say that goes for more than just motorcycles too. We admire the companies that aren't afraid to say their products aren't for everybody.
In six words, describe a day in your shoes?
Reading, Drawing, Thinking, Planning, Building, Improving
How do you find balance between job(s), your company, and life in general?
It's a juggle to do it all, but we are lucky that, to us, working on these bikes is a relaxing and enjoyable part of our day. We don't let a project go until we're satisfied with it, and sometimes that can mean we cannot rush the process.
"We're going to continue creating eye-catching machines, and make sure each is better than the last."