Does Cristallino Ice get involved in any giving
back initiatives?
In Los Angeles, I helped my former company create a not-for-profit that worked to try to help break the cycle of homelessness on skid row. So far in Rochester, I've provided content for beverage programs at some not-for-profit fundraising events.
I'm also helping to initiate a program called "Community Cocktails" with Eric Nagle at his bar named Nagle's Observance. In this program, a dollar from each sale of a selected cocktail is donated to a group that could use our support. Our first cocktail is the Moscow Mule and our first not-for-profit recipient is AutismUp.
Is there a company out there you really admire?
I admire 213 Hospitality in Los Angeles because they're my family. Also, Danny Meyer's
Union Square Hospitality
Group. These groups are setting the bar for hospitality in the U.S. There are more; how much time do you have?
In six words, describe a day in your shoes?
Can I get a seventh word?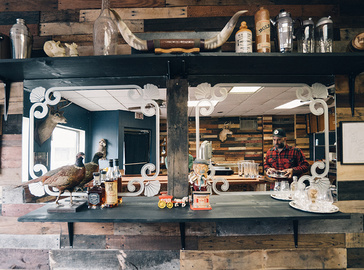 "When my wife tells me to stop doing whatever I'm doing, I stop."
How do you find balance between job(s), your company, and life in general?
I incorporate fun into my work life and bring casual work into my personal life. When my wife tells me to stop doing whatever I'm doing, I stop.
Why have you chosen Rochester as the home for Cristallino?
Rochester's hospitality and cocktail movement are palpable. There's a ton of action and I can see Rochester becoming the Portland, OR of the northeast. I want to be a catalyst in that evolution.